How to share a content board with just a URL link
For an agency, brand and talent manager – when you create a content board you will first need to add a content creator as a collaborator as this gives them the ability to upload their concepts and content for approval.
For a content creator, you will not be able to invite an agency or brand via the URL link and will need to invite them to signup for free.


What's the difference between inviting a collaborator vs sharing a URL link?

The table below should explain the differences in inviting a collaborator vs sharing content via a URL link. It's vital if you're an agency or brand to invite the creator as a collaborator so they have access to upload their content for approval.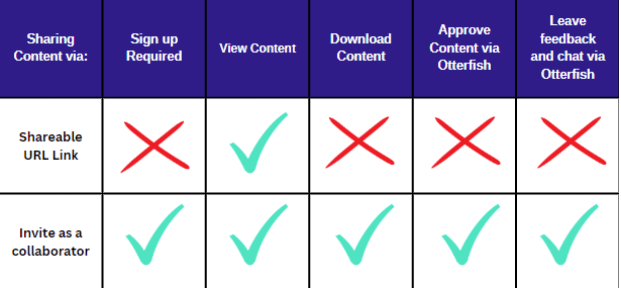 How do I send a shareable link via the content board?
An agency, brand or content creator will have access to share a URL link with a client. No signup required, and the URL will give access to the user to preview the content that has been uploaded.

How to send a URL Link
1. Click the 
 at the top inside a content board




2. Add the email and message (optional) or simply copy the URL link


3. The user will have access to view  the content board via the shareable link.